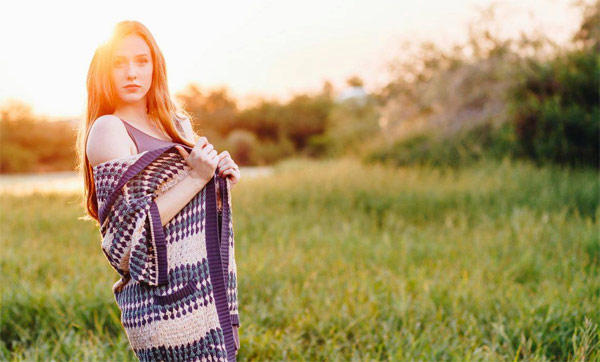 Whether you call it a kimono, poncho, wrap, cape or shawl – you should have one of these in your wardrobe.

Fall is here already and winter on the way — with plenty of cold days ahead!  A trend started by Hollywood celebrities a couple years ago is the super versatile cape.  Some may call it a wrap, shawl, duster or kimono, but no matter what the name, you will want to have one in your wardrobe.  This multi-faceted piece of clothing is perfect for cold winter days because it keeps you warm but is also free flowing enough that you can move easily.

We love the detailing and exquisite colors of the Antheia Floral Burnout Hand Beaded Cape.  It is so elegant and rich in color that you will feel like a princess when wearing it, but it extremely functional and can easily be worn with some black dress pants and a solid tunic. And if you like to get noticed, try a unique open cardigan sweater with long cascading ruffled sleeves by POL Clothing.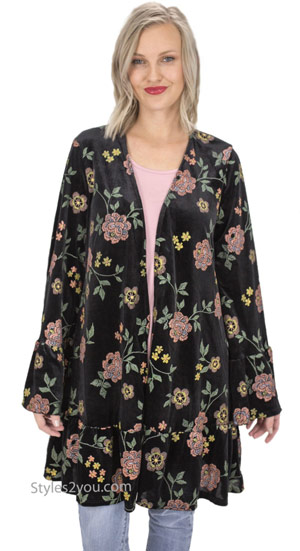 If you have watched any of the award shows recently you will see that many of the celebrities on the red carpet are choosing to wear a cape or poncho.  I'm not surprised when you think about how many options you have with them and all the different ways that you can wear them.  You could wear one that is warm and inviting and ultra plush or a lighter daintier one like the Red Silk Baton Burg Poncho.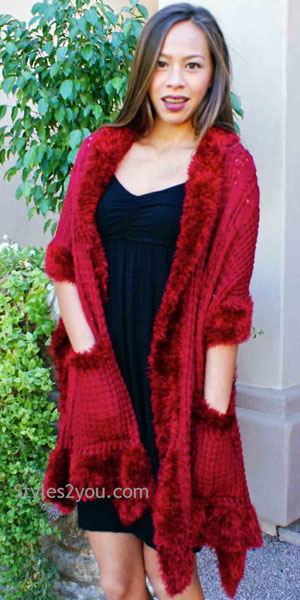 Its so easy to find one in your price range too no matter what that range is.

If it's animal print that you want then you have to check out the Jade Vintage Reproduction Velvet Animal Print Kimono.  With the soft velvet texture and black tassels along the bottom you are sure to be noticed when you don this beauty. And if you're a fan of velvet, see this the Kylie oversized kimono with floral print by POL Clothing.

Another bonus to the kimono/poncho is that many of them are one size fits all so there is no need to hunt down your size or get bummed when they have every size but yours.  One of my favorites is the Corbin Soft Sweater Knit Poncho because it keeps me warm outside but is not so bulky that I have to take it off once I'm indoors.  The Cypress Loose Knit Wrap can work for petites, women, or plus size.

I love to wear my poncho with jeans and a basic t-shirt or tunic.  The Tamara Fun Velvet Burnout Kimono can really jazz up a simple black dress or some palazzo pants. The beauty above is worn over the Cruise shirt-dress extender in light brick (pictured below, sold separately).

If you want to keep it simple and professional, take a look at this Venice plus-size cardigan in beautiful dark rust by Zenana Outfitters.

The wrap/shawl/kimono can be worn year round as long as you pair it with the right accessories and wardrobe staples that are sure to be in your closet.  The burnout kimono would work best for spring for summer but can easily be worn in the winter with a long sleeve shirt or turtleneck.  The lace poncho can be changed by adding a different color top underneath it.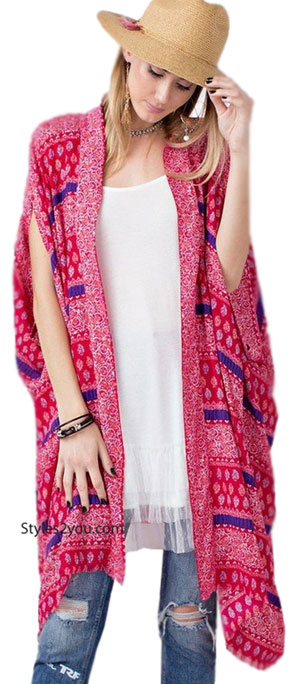 Make sure you grab a kimono or cape of some sort to add to your collection.

Also, see this collection of popular items in ruffles and lace.