In the world of fashion, one size doesn't fit all, and if you really want to rock the walk, make sure your clothing fits you just the way it should. For plus-size women, this means you need to step away from those frumpy sweatshirts and jog pants and find something that fits your body type so that you look and feel fabulous. Here are some tips to help you look your best, no matter what the occasion.
Find the Fit for Your Size and Shape
Swathing yourself in layers of large clothing only makes you look like a colorful cocoon. Its time to let your wings spread and feel great in fitted clothing. But fitted doesn't mean tight. You want your clothes to allow movement, without creating unsightly bulges or bumps from constricting your body. There are five basic body types, and working with your shape to create a more proportional silhouette can be visually slimming and make you feel more confident. Here are a few general fashion tips for plus-size women to follow.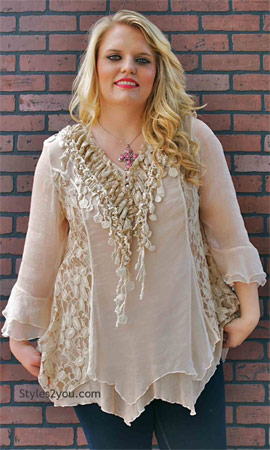 Accentuate Your Best Features. Let's say you have a curvy waist, but your shoulders are narrower than your hips. Flaunt that waistline with a wide belt and then continue to draw the eye up by wearing a top that has detailing around the shoulders or neckline, adding visual weight to even out the imbalance. Collars and accessories can accentuate your enviable bustline. At this time of year, think scarves! Find one that will bring out your eyes and complement your complexion.
On the other hand, if you prefer a cleaner look – consider a simple but beautiful dress by Zenana Outfitters, accented with an eye-catching neck pendant.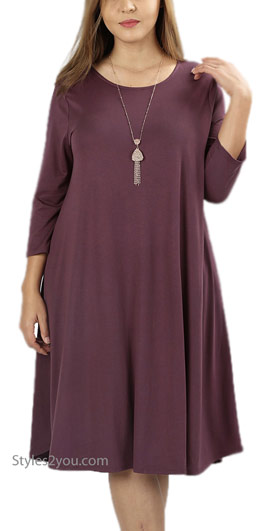 Get the Scale Right. Wearing dainty prints and simple chain necklaces won't complement your shape nearly as well as patterns and sizes that are to scale. Look for prints that have a darker background with lighter details, but make sure those patterned pieces are placed correctly on your body. If your hips are smaller than your shoulders, now's the time for you to flaunt in that flouncy, patterned skirt. The colors and textures will create visual balance to counter the larger shoulder size.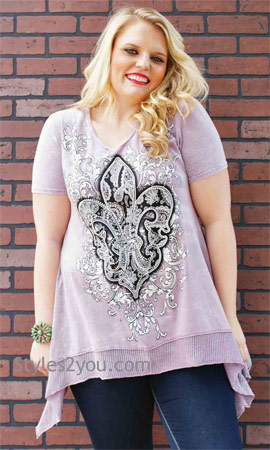 Tailoring can Make All the Difference. With just a few nips and tucks of fabric, your clothes will embrace your curves and you can feel fantastic. If you find something at the store you love – almost – find the size that fits all around, without hugging too tight, and then invest a few more dollars to have it fitted to your exact shape. It'll be worth it.
Consider the Cut and Fabric
When shopping for a new outfit, think vertically; you want to lead the eye up and down rather than side to side. You can have a lot of fun with a belted a cable-knit sweater, or a zippered, crop-cut jacket. Even long, luscious chains with a pendant can create this vertical illusion. Tops with V-necklines also draw the eye up and create a visually tapered look.
Styles that cut in at just the right point, such as empire waistlines, can be very flattering on curvier women. A wrapped shirt or dress can achieve the same luscious look and is great for those with shoulders that are narrower than their waists. The draping folds add detail near your neck and bustline and lift eyes up to your face, emphasizing your top to even out the proportions.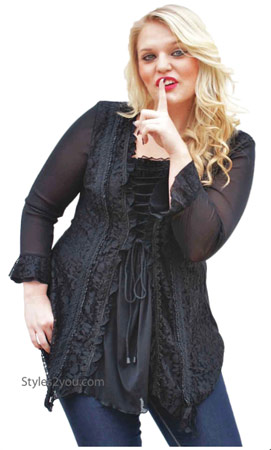 When meandering through the clothing racks, reach out and touch the fabrics. Find clothes made from woven, more rigid fabric. These will give you shape and style, while skimming over any bumps. Fabric that creates nice flowing lines also drapes nicely over curvaceous figures and lets you flaunt what you've got. Avoid clingy knits that hug the areas you want to smooth over.
Don't Underestimate Underclothes
Purchasing properly-sized underclothes, whether you're using shapewear, or just the basics, can make you look like a fashion diva. The power of a push-up bra should never be disparaged. When they are the right size, underclothes can lend the right support without creating more lines or adding extra folds. This foundation will help your clothes lay beautifully, making you feel and look amazing.

There have never been more styles and options available for plus-sized women, so don't settle for frumpy when you can look glamorous and feel comfortable in your own body. Once you take the time to find the clothes that fit your body type and size, you can feel that confident sashay come back into your step.
Need help with your size in U.S. or international? See this handy size chart.