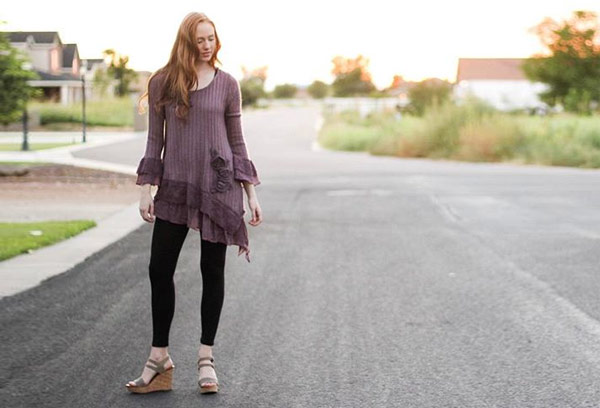 A long-time staple of casual style, leggings have been the preferred loungewear for years. These days, they have officially left the comfort arena and joined the ranks of classic and timeless style. Whether you're heading out for a night on the town or spending the day shopping with friends, combining the right pieces of your wardrobe can make just the right fashion statement.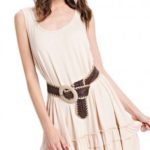 Here are seven ways you can use leggings to spice up your look.
1. Pair With a Shirt-Dress or Tunic Top
The length of a button-up shirt-dress is perfect for pairing with leggings. Keep it loose and put on a belt for an added touch, or pick a tailored piece for a more streamlined silhouette. Similarly, a tunic allows you to cover up any parts you want to be concealed while still keeping a chic look. Choose a longer option for more coverage or try a ruffled peplum-style for added interest.
2. Flowy and Feminine With a Tailored Twist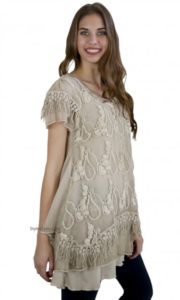 Contrast the snug fit of your leggings with a breezy, feminine blouse. The Easel Clothing brand has some great styles for that breezy look. If you don't love the oversized look on top, throw a tailored jacket over your outfit to slim down the silhouette. Whether you choose a flowy solid or a flirty pattern, this feminine look is always classic. If you want to take it to the next level, contrast a silky floral with bold leather for a look that will turn heads.
3. Keep It Interesting With Color Mixing
Black solids are a wardrobe staple, but don't be afraid to step out in bold colors. Leggings in a bright hue toned down with a neutral top make a statement without being overwhelming. Let your creativity show with pattern mixing. Are you into stripes paired with florals or geometric prints with polka dots? There are endless combinations, and you only need the confidence to pull it off.
4. Be Confident in a Crop Top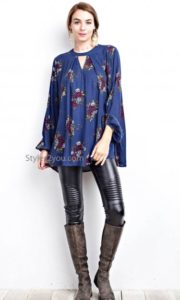 Whether you choose a cropped hoodie for a casual look or cropped sequins for a night out, embrace your curves with a leggings and crop top combination. A tied-up tee can give you the same feel. If you're not quite ready to take this step, throw an oversized denim or leather jacket on top to jazz it up. Try head-to-toe black for a sleek and sexy look.
5. Dress It Up for a Night Out
Forget lounging in your leggings and take them out for a night on the town. Whether you pair them with a tank, blouse or tunic, adding a tailored blazer or a dressy jacket immediately kicks it up a notch. Look for embroidery, stitching or sequined details in a jacket for a bolder choice. Are you waiting for the right time to wear your leather leggings? Adding a blazer or dressy jacket is the perfect opportunity.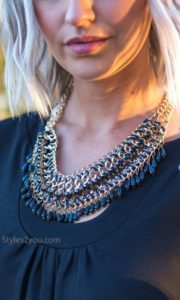 6. Accessorize the Right Way
Your footwear and accessories set the tone for your overall look, and your leggings style is no exception. A breezy daytime look might call for a strappy sandal or wedge heels, while pairing with pumps or heeled booties adds a dressier touch. Throw on some tall boots in cooler weather for a timeless look. Adding jewelry, whether a chunky necklace or a pile of bangles, can take your outfit in whatever direction you choose.
7. Simple, Casual and Comfortable

You can't go wrong with the tried-and-true look of leggings as casual wear. Just grab a comfy oversized tee or your favorite baggy sweater and pair with a sneaker or slip-on shoe for a snuggled-up feel. If you're heading to the gym or out for a run, you have the perfect athletic wear.
Whether you're 14 or 40, you can change up your leggings style using different pieces in your wardrobe. A tunic or shirt-dress, cropped top, breezy blouse or dressy jacket will each give you a different look. Don't be shy about your love of leggings! Use them to give your wardrobe some added spice.