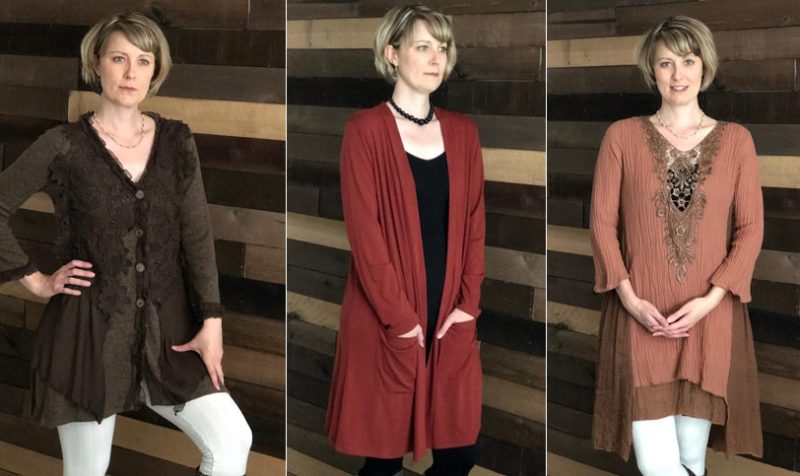 Are you trying to stay fashionable while still staying within a budget?? Everyone has a budget, some people's budget is tighter than others, but we all live within some kind of a budget. This post will give you some tips on which staples to have in your closet to help you stay within a budget. If it's been awhile since you have been shopping you may be feeling like you have nothing to wear, but sometimes its just a matter of shopping your closet and reminding yourself of all the options you have. Sometimes its just a matter of switching some items up like changing out a jacket for a cardigan, or boots for flats, or add a scarf or chunky necklace and your whole outfits transforms into a new style.
Have a basic tank or shirt extender in multiple colors
One of my top preferences for my wardrobe is a comfy tank top tunic that I can wear under cardigans, sweaters, sweatshirts or even my exercise t-shirts with my leggings.  When I find one that I love I buy it in multiple colors so that I have one to go with all of my outfits.  I prefer the more plain ones but there are so many options out there that you could choose one with a lace hem or a crochet hem.  The most important thing is that you are comfortable because part of fashion is exuding confidence for outfit that you wear; so if you are comfortable and love the way you look then you will be confident and that will show in your attitude. Once you find what makes you happy, its nice to buy multiple colors.

Change your accessories/layers
Another option is to get creative with accessories. Sometimes just adding a scarf or chunky necklace or belt can change up the whole look.  You could also change out a jacket with a cardigan or knit sweater. I have a little black dress that I just adore and sometimes I wear a sweater cardigan over it but if I'm going out to dinner or dancing I will throw on a leather jacket and knee high boots with a cute chunky necklace and it completely changes the look of the dress. Below you can see that by adding a bolero faux fur shawl to a shirt extender it transforms it to a whole new outfit.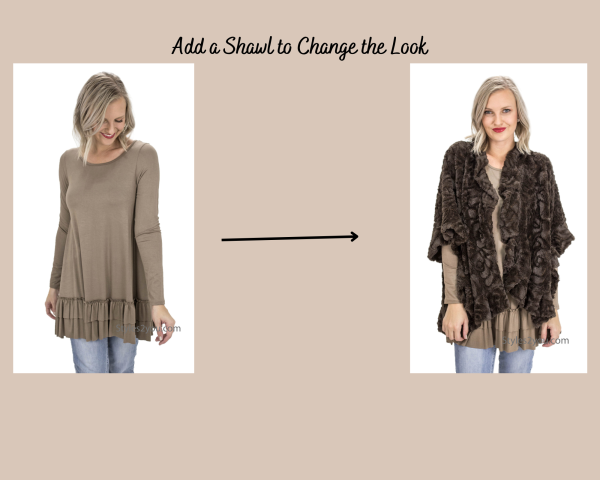 Starting with a basic piece of clothing that is in a solid color allows you to have more options.  If you started with a print dress instead of a solid you would not have nearly as many options and prints can change with each era.  Having a few key staple items and then lots of options of what to pair with your staple items will make a huge difference and help you to feel like you have a bigger wardrobe than you do.

Splurge on Good Quality
When you are choosing what essential or staple items that you are going to buy, watch for sales so that you get more bang for your buck.  You want to make sure that it is high quality so that it lasts for a number of years.  Aim for high quality, well fitting pieces, that are comfortable yet flattering. Know what activities you do throughout the month and decide if you have any outfits for all of the occasions.  If you have an active lifestyle and dress pretty casually for work,  then you probably don't need a lot of fancy outfits hanging in your closet.  Maybe just have 1 or 2 as options but then the majority of your wardrobe would be focused on being able to wear it multiple ways.  When you can wear an item more than 1-2 ways then you will get your monies worth and high quality items will last for years.  I remember splurging on a very expensive pair of jeans after my second child was born and 11 years later they are still my favorite pair and in great shape because they are high quality.  When you figure the price that you are paying spread out over a 4-5 or even 10 year time span it really does make sense to pay a little more.
So to sum it all up start will a basic tank top, t-shirt, or shirt extender in a fashion neutral like black, navy, white, or khaki.  Have a good selection of accessories and layering options to wear over your essential or staple items.  Changing to accessories and layering items while changing your shoe choice will completely change your outfit. The last tip is to splurge on good quality items that will last and fit you well while flattering your silhouette.  When an item lasts a number of years the initial price will be worth it and because it is good quality it will last.