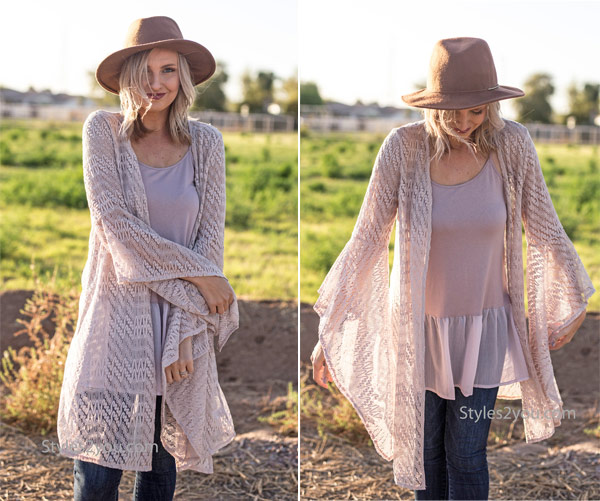 As the seasons come and go and we switch out our summer clothes for fall clothes and then for winter clothes and finally pull out our spring clothes I realize that there are a few items that I wear all year long. I think my first must have item in my wardrobe is a great pair of solid neutral color leggings that I can wear with my favorite spring dress, winter tunic sweater, or fall cardigan. I would also keep those leggings handy for chilly summer nights. I prefer to have black, blue, or brown leggings on hand.  Those colors seem to compliment my wardrobe the most but you can choose which color works best for you. I also prefer to have a solid color so that I can have options with the top that I pair with it. Just because its a solid color doesn't mean it can't have some cute flair at the bottom  or a design down the side. The Miley Ladies Ruffle Leggings  and Lucy Legging  are great examples of this. Pretty Angel Clothing has a great selection of leggings with detailing. These leggings are also dressy enough to wear to the office. 
There are a couple different styles of leggings from high waisted, tummy control waist, 7/8 length, full length, or capri length.  My first choice is the full length because they work for all seasons even in the summer when you are going in and out of air conditioned places. An added bonus is that leggings allow you to go a few longer days without shaving.  Another thought to keep in mind when choosing leggings is that you don't want them too loose or you will be pulling them up every time you stand up, get out of the car, or do too much activity. If you prefer to have some leggings that give you a little help in the tummy area then the Lysse Leggings with Tummy Control are great!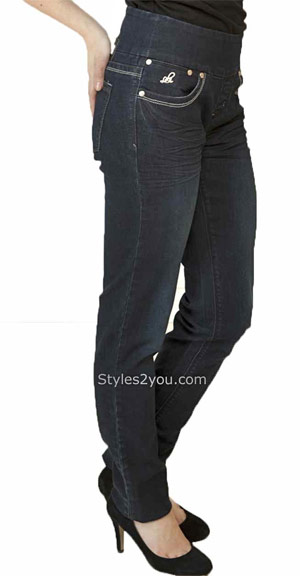 If you want the legging feel but prefer the look of jeans, then Jeggings are the perfect choice for you. They pull on like leggings but don't have the bulk or snaps and buttons that jeans have so they lay flatter under clothing. 
My second staple item would be a shirt extender. These are great to wear under sweaters, t-shirts, cardigans, or by itself. Shirt extenders are perfect when you have a longer torso or if your top has shrunk a little in length.  There are a couple different options for shirt extenders as well. Some are pretty basic with little detailing while others have a crochet or lace detail along the bottom, or some have ruffles along the hem. You can also choose how tight or loose you would like it to be. If you have a loose sweater or cardigan that you are wearing than a loose or flowy shirt extender would work just great but for a tighter fitting shirt I would stick with a more form fitting shirt extender. Monoreno Clothing has a great line of shirt extenders that have cute crochet detailing at the bottom and with over 16 colors to choose from you are sure to find one to go with your special outfit. Another popular brand is Easel Clothing.  They have shirt extender in tank top style, spaghetti strap, or long sleeve.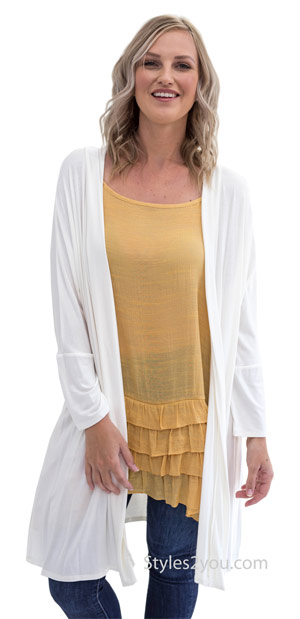 Every woman has their own unique style and when you have the right staples in your closet, it makes putting together an outfit so much easier.  Even if you are on a budget, adding one new staple item to your wardrobe can allow you to change it up very easily and you won't  feel like you have to completely change your wardrobe every year.